It's here! A rotating battle watchface for pokemon! We've built upon the first version of this face, and made it epic-er!
Over ten different pokemon, battling it out every hour. Be sure to catch some easter eggs too
Includes
Dynamic Health bars

Multiple pokemon(including gen 6)

Bigger time

smoother code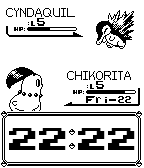 Thanks for looking!
Post edited by whacko on
~~~~~~~~~~~~~~~~~~~~~~~~~~~~~~~~~~~
~ If you like what I do please
Donate Here
~
~~~~~~~~~~~~~~~~~~~~~~~~~~~~~~~~~~~